READ MORE
11-Year-Old School Boy Knocked Down While Crossing The Road To School At Tarkwa Nsuaem[IMAGES]
Twenty-three players Report To BlackStars Camp in Abu Dhabi
Akufo-Addo Sacks Minister of State Over Galamsey Economy Exposé
A blogger named Sel The Bomb took to his Snapchat page to give an account on what led to the arrest of Mona Fiaz Montrage, popularly known as Hajia4Reall.
In his narrative, he stated vividly that Hajia4Reall did not get arrested for a USD 8M fraud in the USA and that the narrative trending on the internet is a fabricated lie.
The blogger continued to say that Hajia4Reall used a "questionable" payment system that was red-flagged to make some private purchases online. After extensive monitoring by authorities for using that "questionable" payment system again, she got arrested to answer for how she came by that mode of payment.
Sel The Bomb disclosed that the singer also carried an undisclosed amount of money while travelling to the UK, which was against the law. He further explained that there is a limit of cash a traveler should have when crossing a border. "If you carry more and don't disclose it, it is called money laundering", he stated.
"She has been offered bail but couldn't meet the terms. Her team and lawyers are working on meeting the terms. If she gets it, she will still be in the UK until investigations are over", the blogger concluded.
The entertainment journalist and TV host, OleleSalvador, posted a tweet that said Mona Fiaz Montrage, known as Hajia4Reall or Mona4Real in showbiz, was reportedly arrested in the UK over alleged USD 8M fraud. The Ghanaian singer and socialite got arrested on Friday, November 11th, in connection with a USD 8 million theft that occurred during her stay in the USA.
On October 31st, the "Hit" singer attended the 6th edition of the Ghana Music Awards UK and has since not returned.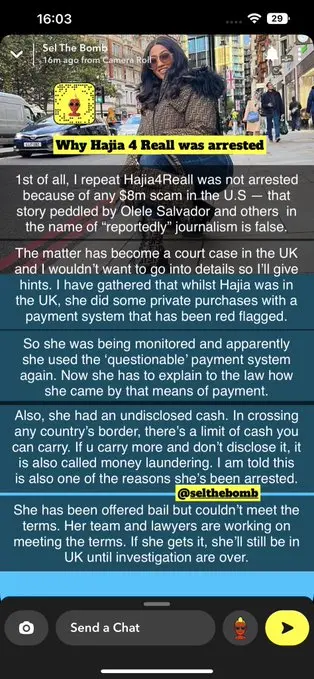 From Opera News