READ MORE
My Dad Started Having Sex with Me When I Saw Ten
Economic Hardship: 'It's A World Crisis, Ghanaians Are Not Educated To Know That' – Presby Moderator
2024 Elections: NDC Will Win 2024 Convincely to a avoid Supreme Court – Defeated Constituency chairman
Akufo-Addo Outdoors Ghana's National Energy Transition Framework at Egypt, COP27
The Office of former President John Agyekum Kufuor has dismissed a fake letter making rounds on social media, claiming that the former president has written to the chief of staff to forfeit 6-months of his salary as former head of state.
A press statement dated November 8, 2022 and signed by the senior aide to the former head of state, Dr. Kwabena Osei-Adubofuor dismissed the letter making rounds as fake.
"This office wants to emphatically state that the reportage is fake and should be treated with the contempt it deserves. We are at a loss as to the object of such reportage, and call for rational reflection on the use of the present avenues of communication that the digital age affords all of us."
According to the purported request dated October 11, 2022, which has now been dismissed as fake, the former president offered to take a pay cut to support government amid prevailing economic hardships brought on by the COVID-19 pandemic and the Russia – Ukraine war.
However, the statement by the former president's office was emphatic that the purported letter is fake and that it even had the name of the former head of state spelt wrongly.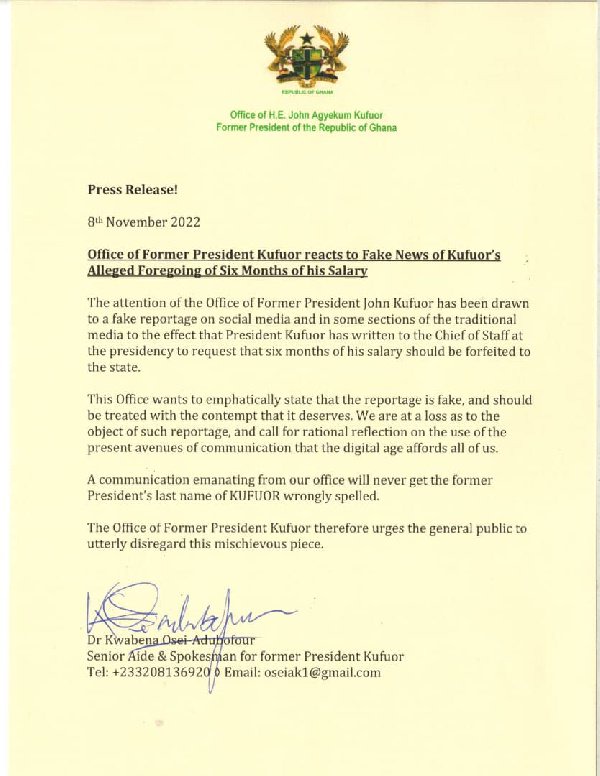 –GhanaFeed.Com