READ MORE
Woman Divorces her Husband For Failure To Make Her Cry During Intercourse
Aisha Huang will be Prosecuted and Jailed if Found Guilty – Samuel Jinapor
Abu Jinapor Explains What Akufo-Addo Meant by 'risking presidency' to fight Galamsey
'Black Market' Dollar Dealers Arrested in Accra
Missing Nurse Interviewee Found Dead, Secretly Buried In A Chief's House At Mankessim
Malawian social media is on fire after a man exposed a lady named Linda, whom he   invited to chew at his house infected him with H!V and disappeared.
According to the man who posted the news on Facebook named MATHEW, the lady works at Thyolo hospital and the two were in in love for so long.
The man broke out with the news after he discovered that the lady has been transferred somewhere and he can not be found. To him, the lady has fled away after giving him the disease.
He says he is looking for her to be living and taking the medication together.
See photos below…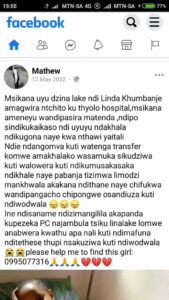 Source : faceofmalawi.com