READ MORE
My father Died Six Days After Gaining Admission Into Harvard – Poor But Brilliant Guy Shares Emotional Story
President Akufo-Addo Speaks On Ongoing Global Economic Turmoil
22 District Mining Committees Inaugurated In Central Region
But the youth in Ayanfuri on  Tuesday, July 19, 2022 disregarded the directive by the Central Regional Police Command, as hundreds of inhabitants in the Upper Denkyira West District of the central region protested against the government over the poor road network within their area.
They have vowed to embark on more protests to compel authorities to fix their roads, since they say the situation is making life unbearable for them.
Speaking to Mohammed Radiu Dinn Rasko Dunkwatv.com one of the leaders of the demonstration who doubles as Mbrantihene of Ayanfuri Nana Kwabena Okyere, explained why they disregarded the directive by the Central Regional Police Command to stop the demonstration.
He attributed "rampant" armed robbery cases and accidents in the area to the terrible state of their roads.
"A lot of accidents are happening on our roads. Now, the pathetic thing is, if somebody buys a new car, it becomes very difficult for the person to even use it on our roads because if you use it for a week, the car will break down.
Notwithstanding that, a lot of crimes have been happening here, armed robbers have been attacking us because of the poor nature of our roads. We are therefore calling on the government to come to our aid now".
Some residents also said, despite numerous assurances by successive governments, their roads have remained in a deplorable state.
"We also want our fair share of the national cake. We are frustrated about the dusty nature of our roads. All the politicians have not been able to fulfil their promises by ensuring that our roads are fixed. All that we want is for our roads to be constructed," a protestors, lamented.
The residents have also threatened not to vote in subsequent general elections if their roads are not fixed.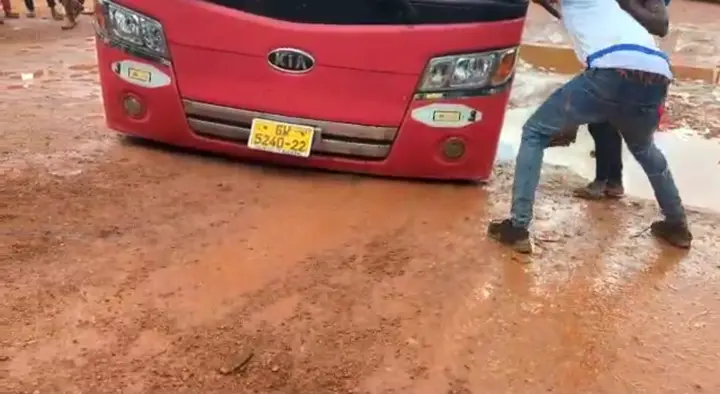 Meanwhile, the assembly member for Ayanfuri electoral area Mr. Kwabena Eninn Castro said, they are given the authorities one month optimum to come and fix their road.
"They have the power to influence the Police to stop the people from demonstrating but lack the will to influence the powers that be to the road fixed." He added.