READ MORE
Lady Goes Viral for Wearing Polythene Bags As clothes
We'll Resist Any IMF Conditionality That Will Affect Us – TUC
Over 1,000 PPP Members Defect To NDC
Dunkwa-on-Offin: Veterinary Service Holds Training For Khebab Sellers To Limit The Risk Of Zoonotic Diseases 
Ghana heading to the IMF has brought about lots of comparison between the Mahama and Nana Addo as of who is the best since they all resorted to the IMF during their time of leadership. A lot has been established and more are yet to come.
Ashanti Regional's Chairman has been causing series of waves on the internet with his simple and brief statements against the NDC in the favor of his party for which one he stated at the NPP's delegate conference last year received massive reactions. "Ghana is better than U.K, U.S.A and other European countries under the leadership of Nana Addo", he stated. Not long ago, he has made public another statement for which I bring to you in this article.
Writing from the official twitter page of News Daily is a statement made by chairman Wontumi in relation with Mahama. "John Mahama's New Kejetia Market is needless, it is causing traffic in Kumasi", he shared. He is known for making such statements just cause tension on the internet and concerned citizens did not hesitate to react.
John Mahama's Market in Kumasi has an international accreditation considered as one of West Africa's largest markets and has provided indigenes of Ashanti Region as a whole a serene environment to trade.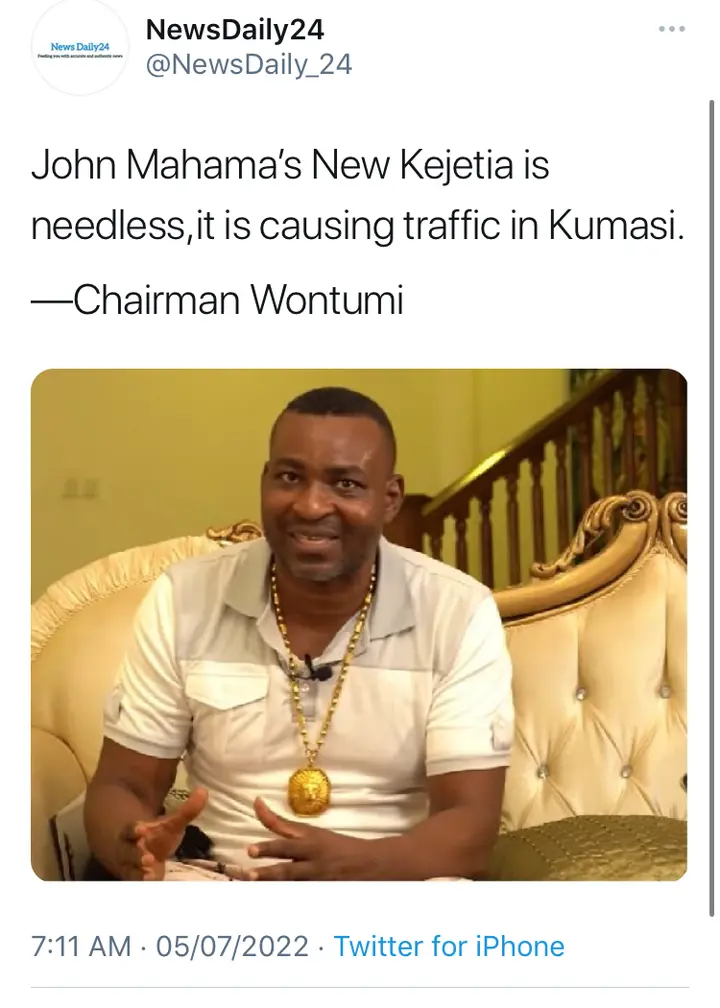 SOURCE: News Daily/twitter.com/opera news